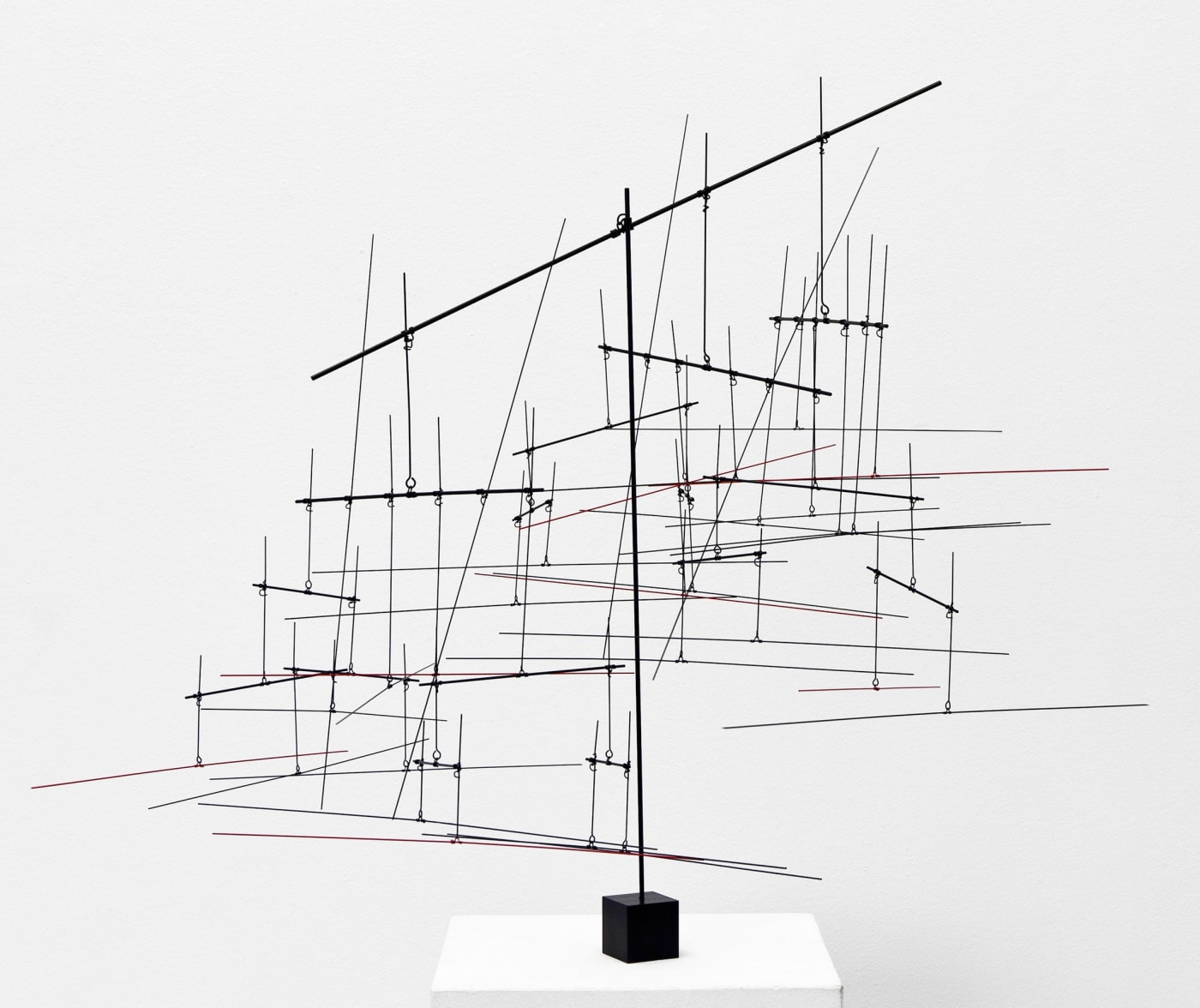 Suspension / Enclosure (RED): New Work By Knopp Ferro
November 1, 2014 - January 10, 2015
Born in Austria and currently based in Munich, artist Knopp Ferro spent half of the 70's and most of the 80's working and touring throughout Europe as a member of the artist collective Jet Ferro and subsequently, the performance group Bumper to Bumper. His evolution from chief architect of charismatic performance spaces to inspired creator of structure and shadow is on poignant display in his new body of work.
With the repetition of small linear elements, rods made of stainless steel and/or iron, the structures echo the logic of buildings. Carefully modulated sequences suggest the ascending steps of a stairway – only presented at an angle, without the logic of gravity. Though a meticulous system of balance and counterbalance is evidenced in each composition, mobiles and stabiles included, all the works seem to tilt of their own volition, animated by the imagination of the artist.
But the revelation in the artist's new work is the introduction of bold color. Slashs of red, pigment applied directly to the metal, appear as a jazzy counterpoint inside the eloquent black and white silhouettes. In another new series, Colour Spaces, acrylic boxes (all 10 x 10 x 9 inches) in shades of neon green, light blue and orange house miniature hanging sculptures.
As per the exhibition title, via suspension, via enclosure, in shadow or in surprising color (RED), Ferro's free-floating geometry confounds and then transforms the visual landscape.
The artist's work is included in a number of international public, private and museum collections. This exhibition marks his second exhibition with the gallery.