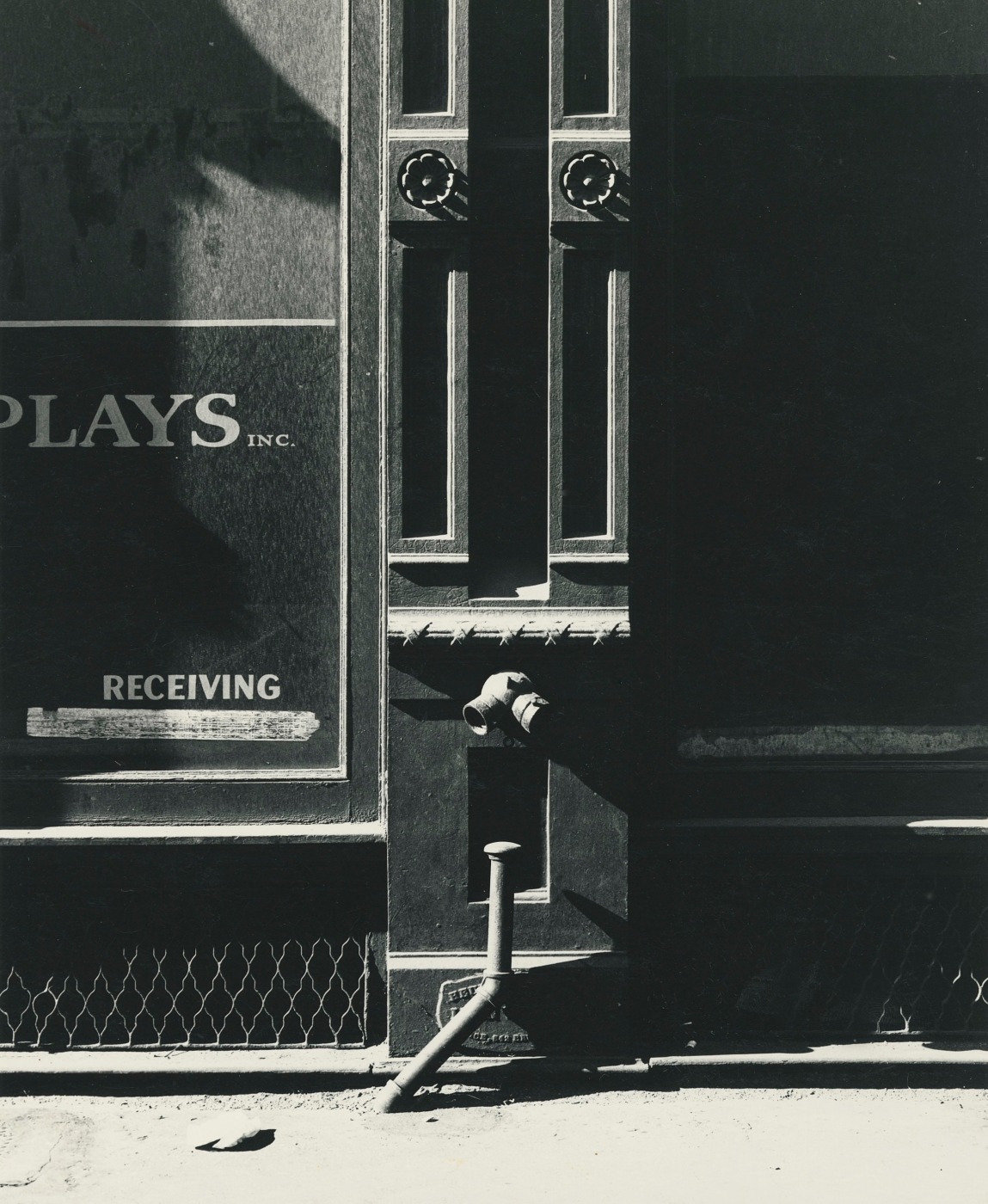 MARK FELDSTEIN (1937-2001) Mark Feldstein brought his camera with him everywhere. On walks and bike rides around lower Manhattan starting in the 1960s, he captured chance shadows and compositions of light carved out by the architecture and design flairs of New York's public spaces. Abstracting and styling the city, Feldstein paid close and equal attention to architectural details, patterns, lettering, and shadowy figures. As sunlight rotated through the days, seasons, and weather, Feldstein rendered new forms of light with his 4x5 view camera.
Feldstein was born in Milan, Italy, and like many immigrants, he and his family made New York their new home. Spending his childhood and adolescence in New York, Feldstein was intimately familiar and in sync with the rhythms of the city's busy streets. As an adult, he kept a home and studio on Bond street, where he had constant contact with the same streets and buildings over many years. He was one of the earliest artists to take inspiration from the Bowery, a lower Manhattan neighborhood that would later become a hub for a robust community of artists in the 1970s and 80s.
First a graduate of and then professor at Hunter College, New York, Feldstein would utilize his photographs for compositional inspiration for his paintings. Gradually the time he spent photographing and printing overtook his studio practice, until he abandoned painting altogether to focus on the rich new territory of fine art photography. The artist first exhibited his photography in 1972, and his photographs were featured in April of 1974 to wide critical acclaim in the group exhibition "Manhattan Now" at the New York Historical Society.
A skilled printer, Feldstein was able to capture sharp details and a full range of the greyscale. In the artist's democratic eye, all objects, depths, and surfaces are given equal attention. The same compositional treatment is given to decorative architectural elements as utilitarian pipes or objects, and a range of texts are captured, from street signs to graffiti. In his photographs from 1976-77, Feldstein began experimenting with transparent surfaces. These photographs express a new depth as the lens focuses through fences, windows, screens, and transparent fabric.
According to Sanford Wurmfeld, former chair of Hunter's MFA department, "Mark was an inveterate walker." Feldstein's signature practice of taking long meandering walks around the city for inspiration can be traced to the 1950s group of French avant-garde artists known as the Situationists International. The founding French Situationist, political theorist, activist, and poet Ivan Chtcheglov wrote in 1953: "Architecture is the simplest means of articulating time and space, of modulating reality, of engendering dreams." A strategy the Situationists often employed was called the dérive (deviation), in which wandering through urban areas opens the possibility of new experiences. By allowing the city to guide his body through chance and intuition, Feldstein opened himself to unfixed, undetermined, and unpredictable experiences through the lens of his camera.
The arc of Mark Feldstein's career, from over a decade practicing and exhibiting painting to his subsequent transition to photography, reflects the transformation of the medium of photography in the 20th century. While photography's current position in the fine arts is accepted and the medium is exhibited in museum contexts worldwide, as recently as the 1960s photography was considered more akin to a craft than a fine art. In the 1970s, Feldstein helped to push the wheels of art history forward by establishing Hunter College's first Department of Photography. Later, in the 1980s, Feldstein and his colleague Roy de Carava were instrumental in making photography part of Hunter's MFA program.
Feldstein's eye, skill, and vision for the medium of photography were in many ways ahead of his time. At the same time his body of work has greatly inspired the next generation of photographers. Today, the ubiquity of cameras and image platforms vying for our attention directly threatens Feldstein's contemplative attitude. In a world of constant visual distraction, his photographs can teach us how to cultivate and refine a studied approach to looking.