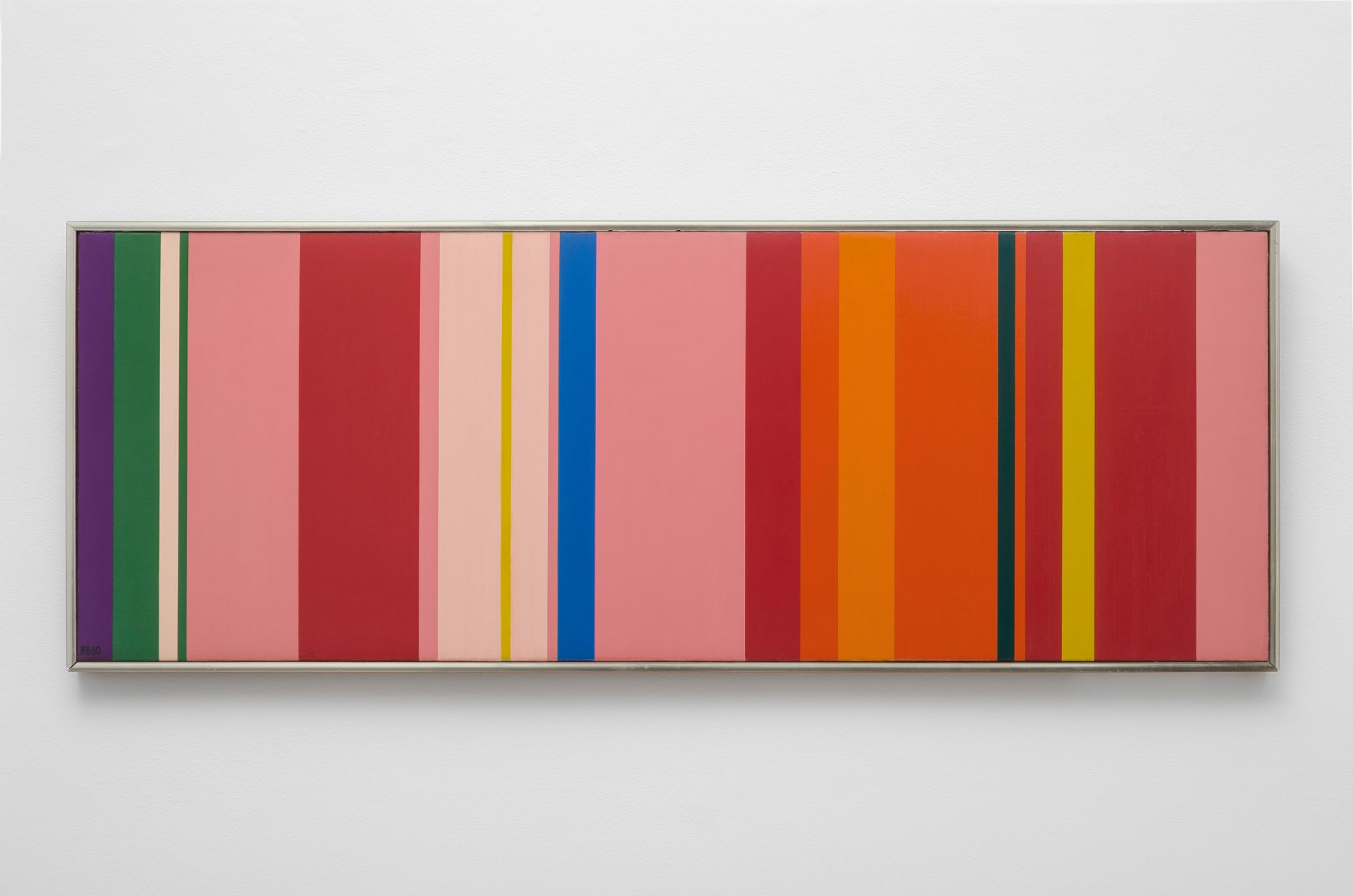 KARL BENJAMIN (1925 – 2012) Born in Chicago, Karl Benjamin began his undergraduate studies at Northwestern University in Evanston, Illinois in 1943. Interrupted by service in the U.S. Navy during WWII, Benjamin resumed his studies at Southern California's University of Redlands in 1946. Graduating in 1949 with a B.A. degree in English literature, history and philosophy, Benjamin began his career as a teacher with no intention of becoming an artist. However, his relocation to Claremont, California in 1952, shortly after he began "playing" with paint in 1951, galvanized his sense of his career path.
Though Benjamin continued to teach in public schools and later to great acclaim, as Professor Emeritus for Pomona College, the artist's work blossomed amid the extraordinarily lively art, design and architecture scene in Los Angeles in the mid-twentieth century. Numerous gallery showings of his work during the 50's culminated in 1959 with Benjamin's inclusion in the Los Angeles County Museum of Art's ground-breaking exhibition, "Four Abstract Classicists: Karl Benjamin, Lorser Feitelson, Frederick Hammersley and John McLaughlin."
The exhibition garnered national attention for the artist, along with the creation of a moniker for Benjamin's meticulously orchestrated color and form: Hard Edge Painting. Subsequently, Benjamin's work was included in the traveling exhibition, "Purist Painting". The Whitney Museum of American Art (NY) went on to feature Benjamin in their exhibition, "Geometric Abstraction in America" (1962), while the Museum of Modern Art (NY) also included work by the artist in their watershed show, "The Responsive Eye" (1965).
Benjamin was awarded the National Endowment for the Arts Grant for Visual Arts in both 1983 and 1989. His work has been featured in numerous museum exhibitions and is included in the public collections of the Los Angeles County Museum of Art; Museum of Contemporary Art, Los Angeles; Museum of Modern Art, Israel; Oakland Museum, Oakland, CA; San Francisco Museum of Modern Art, CA; Seattle Art Museum, WA; and the Whitney Museum of American Art, NY, among others.
Louis Stern Fine Arts is the exclusive representative of the estate of Karl Benjamin.