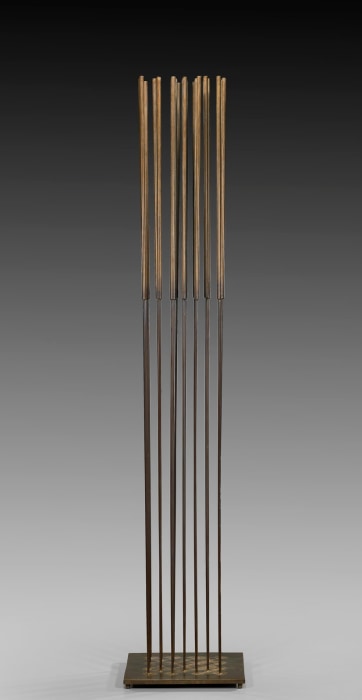 HARRY BERTOIA (1915 – 1978) Harry Bertoia was born in San Lorenzo, Italy but, during a visit to his older brother in Detroit, Michigan, determined to stay in the US in 1930. Initially he studied art and design at the Cass Technical High School and began making jewelry. In 1936 he moved on to the Detroit Society of Arts and Crafts. A year later he received a scholarship to study at the Cranbrook Academy of Art in Bloomfield, Michigan where he met Walter Gropius, Edmund Bacon and Ray and Charles Eames. At Cranbrook, he established and taught in the metal working department, where he explored a number of forms and ideas that would appear in his sculpture years later.
In 1943, Bertoia moved to Venice California to work with designers Charles and Ray Eames. During his three-year tenure with Eames, he helped design a number of signature furniture pieces. He is informally credited with creating the metal spine/leg structure of the Eames Plywood Dining & Lounge chairs (DCM/LCM). Additionally, Bertoia began experimenting with metal sculpture while continuing to design jewelry and make monoprints.
In 1949, Bertoia became a US citizen and moved to Barto Pennsylvania to join Hans Knoll in Knoll Associates. His work as an architectural sculptor landed his first sculpture exhibition in 1951 at the Knoll Showroom in NYC.
Due to the success of his design of the "Diamond Chair" for Knoll, by the early 60's, Bertoia was able to pursue his artwork full time. His sonambient sculptures, created in the 70's, are the result of the artist's experiments in the manipulation of metal. Featuring rods of different lengths and widths, the sculptures achieve a range of gentle to sharp sounds. Though the work has a strong architectural design, the magic of the pieces is in it's sound. When touched or brushed, the sculptures become abstractions of sound as they sway back and forth, knocking against one another.
The Addison Gallery of American Art (Andover, Massachusetts), the Brooklyn Museum (New York City), the Cleveland Museum of Art, the Dallas Public Library, the Detroit Institute of Arts, the Hirshhorn Museum and Sculpture Garden (Washington D.C.), the Honolulu Academy of Arts, the Kemper Museum of Contemporary Art (Kansas City, Missouri), the Nasher Sculpture Center (Dallas, Texas), the Philadelphia Museum of Art, the Reading Public Museum (Reading, Pennsylvania)], the Smithsonian American Art Museum (Washington D.C.), the Vero Beach Museum of Art (Vero Beach, Florida), and the Walker Art Center (Minneapolis, Minnesota) are among the public collections holding work by Harry Bertoia.